This year's Fire Prevention Week's campaign theme is "Serve Up Fire Safety in the Kitchen!TM"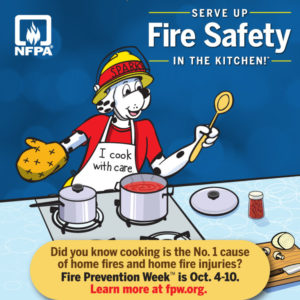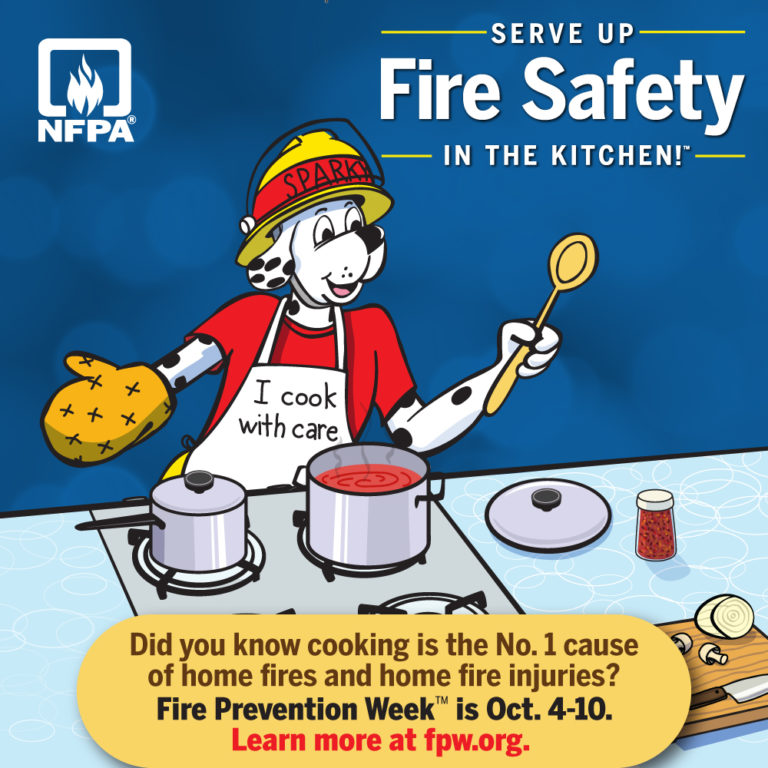 The campaign's goal is to educate everyone about the simple but important actions they can take to keep themselves, and those around them, safe in the kitchen.
Unattended cooking is the leading cause of fires in the kitchen.  Keep kids safe and avoid accidents and injuries by keeping them three feet away from the stove while you are cooking.
Other basic kitchen fire safety guidelines include:
Keep appliances serviced, clean, and in good repair.
Unplug electric appliances when not in use. This saves power by reducing the amount of energy a device consumes even when it's not being used, and protects against overheating and power surges that can damage equipment.
Install a smoke detector near, but not in the kitchen.
Use caution when lighting the pilot light or burner on a gas stove.
Don't use metal in the microwave.
Don't overfill pots or pans with oil or grease.
Additional fire prevention guidelines include:
Avoid "over-fusing" circuits…the modern-day version of putting a penny in a screw-in fuse socket to keep the fuse from blowing. If a breaker is tripping, but will allow you to reset it, there is a problem on the circuit. It may be overloaded. Replacing the breaker with one of a higher amperage rating is a potential fire hazard. Enlist the help of a licensed electrician.
If your lights flicker, or appliances start working and then stop, whether they are plugged in or hardwired, or you hear crackling or sizzling noises at a switch, receptacle, or inside a wall…stop using the equipment, turn off the breaker, and call a licensed electrician. There may be arcing on the circuit, which is a potential fire hazard.
Fire Prevention Week is observed each year during the week of October 9th in commemoration of the Great Chicago Fire, which began on October 8, 1871, and caused devastating damage.
In 1925, President Calvin Coolidge proclaimed Fire Prevention Week a national observance, making it the longest-running public health observance in our country. During Fire Prevention Week, children, adults, and teachers learn how to stay safe in case of a fire.
Firefighters provide lifesaving public education in an effort to drastically decrease casualties caused by fires.
When you need a trusted licensed Electrician, Call on Little Sparkie Electric!