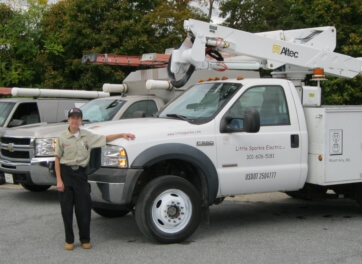 Planning a Construction Project?
Call Little Sparkie Electric!
Are you doing a tenant build-out, remodeling or new construction? Does your circuit breaker panel or fuse box need to be replaced or upgraded? No matter what your project, Little Sparkie Electric, LLC excels at designing and implementing creative solutions to your electrical challenges!
Our team brings more than half a century of varied commercial, industrial and residential experience, so you can be assured that we've devised solutions to all types of projects, large and small. We're your full-service electrical contractor!
Generac Generators is announcing a safety recall of certain GP15000 and GPl7500 portable generators. Little Sparkie hasn't sold any of these models, but it's likely some of our customers own them. For more information visit our latest blog post.
At Little Sparkie Electric, we specialize in service work!
We frequently put on our detective hats as we track down electrical issues, ask and answer questions, and offer suggestions. Our goal is to give you the results you need – and more – while ensuring that projects meet or exceed all building and safety codes.
Our thanks to our valued customers who have put their trust in us since 2007!
Testimonials
"I immediately recommended Little Sparkie Electric because I needed someone I could trust. It was a complex job that also required making connections to electrical boxes in other parts of the building and coordinating with the building manager…"
Read More Testimonials