Are you one of the thousands of Maryland residents that now has a plug-in electric vehicle (EV)? According to the Maryland Motor Vehicle Administration, the state has more than 25,000 electric vehicles registered. *
Frederick County boasts the third highest percentage of electric vehicles – .76% of all vehicles registered in the state – for a total of 1,953 vehicles, according to Pluginsites.org. **
Before buying an EV, have a qualified electrician install a new, dedicated circuit for your EV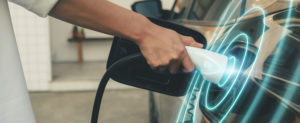 charging device. Older home wiring may not be suitable for use with EV supply equipment.
Your electrician can best determine how to get the power from the breaker panel to the desired charger receptacle or hardwired unit location (your charger). Your professional will explore whether there is physical room and electrical capacity in the panel and what path the cable needs to take.
Next, depending on how much battery capacity your EV has, determine how fast  you want the batteries to charge. More batteries and/or those with greater capacity take longer to charge than those with fewer/lesser capacity.
Your electrician will then determine what amperage draw the unit is designed for, and whether it needs a neutral wire (which carries the circuit back to the original power source). This determines the wire size and whether the cable needs two wires or three.
 Residential chargers have three basic levels of charging speed:
Level 1 is any 120-volt receptacle. This generally takes all night or longer to charge, depending on the vehicle.
Level 2 is what most people want. It uses anywhere from a 40- to a 60-amp circuit, with a charge time of about five to seven hours. Some cars have a charging cable with a plug that needs a receptacle, while others have a hardwired wall unit to which the charging cable connects.
Level 3 charging delivers more power, faster – in a few minutes compared to hours. Given the high-voltage supply required for Level 3 charging (and the higher price point), they aren't typically installed in residential locations. They're much better suited as free-standing units in commercial locations that have an ample power supply.
We've installed dozens of electric vehicle chargers, and can advise you on the type of charger that best meets your needs and ensure a safe installation. Call or contact us today!
*As of September 2021
** Behind Montgomery County with 1.61% and Howard County with 1.52%