Frederick, MD…Catherine Nazarene has built her successful business as an electrical contractor by ignoring the Dow Jones average and focusing on hard work, excellent service and diversifying their service offerings.
Although she launched her Mt. Airy-based business on January 1, 2007, she was able to ride out the great recession because "we didn't put all of our eggs in one basket," says Nazarene.
"We've never had a bad year because we're versatile and not afraid of a challenge.  If you're an entrepreneur, you can't be afraid, you have to have blinders on and focus straight ahead if you want your business to grow, adds Nazarene.
Nazarene's first paying job came just two days after she opened her doors, and her business has grown steadily ever since. Nazarene, whose husband, John, also works in the business, also employs a secretary/bookkeeper and three part-time electricians. Little Sparkie has grown to serve customers in Frederick, Carroll, Howard and Montgomery Counties, along with those in Western and Southern Maryland, Pennsylvania, Virginia, and West Virginia.
Growth and Change through the Years
In the past few years, Little Sparkie has focused on expanding their commercial and generator services, and they recently updated their website, www.littlesparkie.com, to better highlight those services."We offer a full range of commercial services, but I love challenging situations, where we play detective as we track down electrical issues, ask and answer questions and suggest solutions," notes Nazarene. 
Installing and servicing Generac generators has also been an area of steady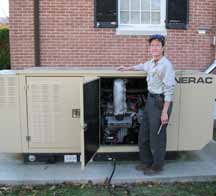 growth through the years.  "Most electricians don't work on generators, and many generators are not installed by electrical contractors," explains Ms. Nazarene.  "That's because generators are as mechanical as they are electrical – they're often likened to cars or trucks without wheels," she adds. Nazarene holds a Generac Commercial Level II Certification, which means that the business is certified to sell, install and service large commercial generators that have a rating up to 150 kW. 
Another change the business has seen in the last 10 years is an increase in regulations.  We're in the fifth Code cycle since we started in the business!" says Nazarene.  One of the reasons for the rapid change in regulations is the increase in alternative energy.  "Articles in the (National Electrical) Code now take into consideration solar and wind power, and energy storage via fuel cells, and specialized batteries for electrical vehicles.  We've even installed charging stations," she notes. 
Restoring a Caboose to Serve the Community
The staff at Little Sparkie Electric enjoys challenging projects, as well as contributing to their community. So they were only too happy to provide the electrical work at reduced rates to help restore Mackenzie, AKA "Mac," the caboose that serves as the Visitor's Center for the Mount Airy Rails to Trails project.
Little Sparkie coordinated with the Mt. Airy Community Fund and the town of Mount Airy to determine the electrical needs of the caboose, and then designed and implemented the electrical system. This project's mission is to provide foot traffic for local businesses, scenic beauty for nature lovers, and a walk through the past for historians and rails fans. 
About Little Sparkie
Catherine Nazarene, aka "Little Sparkie," in reference to her small stature, is a self-described "shade tree" car mechanic who notes that her life-long love of things mechanical was a factor in her decision to switch careers from CPA to electrician over 11 years ago. She is the managing member of Little Sparkie and a working licensed Maryland and Virginia Master Electrician. For more information about Little Sparkie Electric, call 301-606-5181, e-mail [email protected] or visit www.littlesparkie.com.