I just wanted to let you know that I had my first long-drawn-out power outage yesterday since you installed the transfer switch.
So I kicked the generator into gear and used the transfer switch thing you installed. And it was wonderful!!!!! We had water and internet and the fridge stayed cool and we had some light! After living out here almost 18 years, this is the first time I've had a power outage where it wasn't totally horrible!!!
So thank you for doing such a good job!
Dawn K., Happy Customer
Superior Auto Service Center, which has been a mainstay in Frederick since 1986, has long relied on Little Sparkie Electric for all of their electrical needs.  "They always do a good job. Catherine cares about the work she does and communicates well with us.  A lot of jobs here can be challenging, but she always powers through them."
— Rob Taggart, Manager
Superior Auto Service Center
"Sometime around Christmas, a neighbor reached out asking if I knew of a good electrician.  Immediately, I thought of Little Sparkie 🙂  Getting to know her over these last few years, I have learned a few things…  She really seems to know her stuff, she is good at what she does, she has a great heart, she is not cheap but fair and honest!  
"So, I gave her business card to my neighbor, sharing that exact info with him.  They had a breaker that kept tripping in their home and my neighbor was stumped as to why (after having a small fire in their home summer of '18 – which caused A LOT of damage, they wanted to be sure to get this looked at).  I felt confident Catherine would get to the bottom of it and take good care of them! 
"I popped by this week and my neighbors went on to tell me that this was not an easy find.  Catherine spent a lot of time even coming back a second time before finding the problem.  This could have caused another fire. The problem was found and fixed.  My neighbors were thrilled and so happy we had this referral for them.  Thank YOU Catherine for taking care of my neighbors – you are a gem in their eyes."
— S.S. Mt. Airy
The work Little Sparkie Electric has done at my restaurant has been efficient and thorough.  Catherine's knowledge of her field is amazing. Her commitment to quality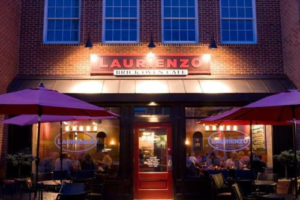 is one of the highest I've seen.
It's been a pleasure working with a true 'small business' electrical company within our community. I highly recommend Catherine of Little Sparkie Electric for any size commercial job."
 — Jay Laurienzo, owner, Laurienzo Brick Oven Cafes in  Mt. Airy & Hyattstown
"We have utilized Little Sparkie several times over the years.  Catherine is very competent and explains everything she wants to do to fix the issue in advance.  Her team is efficient and very reasonable.  I would not hesitate to call on their services again in the future."
— Andrew Benjamin, Director, Contact Center, TSYS Payment Solutions
"When I managed the Regus Business Center in Frederick I had a customer that needed a remote TV set-up with special electrical connections in his office.
"I immediately recommended Little Sparkie Electric because I needed someone I could trust. It was a complex job that also required making connections to electrical boxes in other parts of the building and coordinating with the building manager.
"Catherine knew what she was doing – I didn't have to worry about anything – she did a wonderful job for my client." — Jean Wright, former General Manager, Regus Business Centers
"I most appreciate Catherine's diligence and attention to detail. She always has a fantastic attitude and works us into her schedule so that the work we are requesting gets done quickly and efficiently. I also like that she is very upfront with estimates, what services she is providing, and explains what she is doing throughout the process so you know exactly what you're paying for.
"Catherine is wonderful to work with. She really makes you feel like a friend more than a client and you get a sincere sense that she truly enjoys what she does! I contacted many electricians in the Frederick area to get estimates on the services I needed, and Little Sparkie's price was the best! I would highly recommend Little Sparkie Electric to everyone in the Frederick and surrounding areas." 
— Erica Leonard, Administrative Assistant, Jesse Hoffman Real Estate (a property management firm)
"Little Sparkie Electric has done a variety of miscellaneous repairs for us for the past four – five years.
"The largest project Catherine did was lighting and an exterior fan for a new outdoor patio project. To do the project, she needed to access run the conduit through the basement foundation to the patio.
"It was a complicated job – it took a lot of endurance and it took her two to three days – but she accomplished the job. Catherine doesn't care about the difficulty factor – she'll tackle any job and do it properly.
"And she's always prompt, which you can't say about all contractors." 
— Kris Wade, Chuck Wade Sod Farm
"Little Sparkie was referred to us by a member of another church in late 2012. They had told us, and I've found this to be true, that Catherine has a passion for doing the job correctly. And safety is of the utmost importance to her.
"As with many churches, our building didn't have enough 'juice' in the regular outlets, and especially when we did events outside it would trip the breaker. They had to fish lines from the power source through the ceiling and down again – drilling holes through the dry wall and all the way down the hall.
"And because we have a day school at our church, it had to be done in the morning, not in the afternoon when the kids are napping.
"Catherine accommodated our schedule and she absolutely solved the problem. Moreover, I really enjoy her as a person – she's very personable." 
— Nadine Gross, Business Manager, Potomac Valley Assembly Church
"Little Sparkie Electric has been there for us many times throughout the years. From electrical repairs to generator maintenance, they can do it all." 
— A satisfied customer
"Little Sparkie Electric was quick, very professional, and economical [installing our ceiling fan]. When you are looking for someone to do electrical work that needs to be done right the first time, please do not hesitate to call Catherine with Little Sparkie Electric. I would recommend them to anyone." 
— Ray and Tanya Miller, Mount Airy
"Little Sparkie Electric offered fast, reliable, knowledgeable service. They were efficient and very friendly too. I highly recommend them." 
— Eric & Tina Moore, Mount Airy, MD
"May I take this opportunity to thank you for installing a new front door chime, complete with button and wire modification as necessary to make it functional. Even more, we wish to thank you for discovering and repairing a mysterious short which kept lifting a circuit breaker every time a given wall switch was activated. It turned out to be a shorted ceiling fan motor.
"The job became much more involved, in that a new fan, a three-segment switch box and new switches were necessary. This led to considerably more work, requiring circuit tracing, wire identification, and bringing a 28-year-old installation up to current Code. Thank you very much for the industrious and intelligent effort necessary to rectify the several problems." 
— Frank Crowson, Mt. Airy, MD
"I Just wanted to take time to drop you a line about the job you did recently at my house. It was a pretty big job, rewiring the whole basement, but you did an excellent job, very professional, promptly started and finished, at a reasonable price and I was delighted with the results, not that I expected any less, having known you all for so many years. I'm anxious now to get started on 'Phase II,' i.e., re-wiring the old circuits upstairs. I eagerly await the results of your preliminary inspection and estimate."
— Steve Alexander, Formerly of Silver Spring, MD
"Little Sparkie Electric has done several jobs for us over the last several months. I have been impressed that every time we call we get a timely response. Each time they give us a time for a reply, an estimate or a start time for a project, and they do precisely what they say they will do, are on time and perform professional service.
"I initially called Little Sparkie with a minor project of installing an emergency hallway light at our office building in Frederick City. We had to work around various tenant schedules to get the work done and we were on a deadline to have the light installed to meet city permit requirements. Even though our job was small they were quite accommodating, completed the task and conscientiously cleaned up as they finished. They came to our aid again when we recorded a huge spike in our electric usage. They came immediately to inspect our electrical system for any abnormalities.
"Little Sparkie came out to our farm in Middletown on a drizzly Monday to pull the wire and install an electrical panel for our greenhouse. Glitches in the weather were met with good humor, muddy boot prints were wiped away, the work was completed professionally and we were given a fair price.
"We have had many different contractors do work for us in various capacities over the years and Little Sparkie stands out as a company we can trust for any electrical repair or major project in our future."
— Eric and Lori Rice