Hiring an electrician may not be the first thing that comes to mind when you're planning to sell your home.  But as Redfin's  Ryan Smith notes in this article, you don't want rooms that are poorly lit or lights that don't work!
Trying to sell a poorly lit home
"You want to show your home in the best light, so take the time to really gauge the quality of your lighting by closing your curtains/blinds and looking at each room as though you're a potential homebuyer. Make a note of any rooms that are poorly lit or just seem dark and then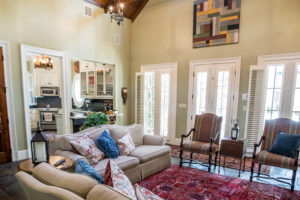 call an electrician so that you can have some additional lighting installed. 
"Even worse than a poorly lit room, however, is when the lights don't work at all. Sometimes the light bulb is just burnt out, while other times the socket itself is in need of repair. Consider calling an electrician before you begin showing your home to make sure it's shining its brightest like the one above. Potential buyers (and your bank account) will thank you for the investment."
Read Ryan's full article here.