As we march into a new decade, we want to thank our many customers for making the past year another successful business year for Little Sparkie Electric!
This month we celebrate our 13th year in business! We defied the odds when we started our business in January of 2007, in the early days of what would come to be known as "the Great Recession."
Our first paying job came just two days after we opened our doors, and our business has been growing steadily ever since!
Keeping business busy by servicing generators
One of the ways we've grown our business is by expanding our Generac Generator sales and services for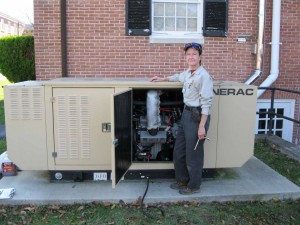 commercial businesses and residences.
If you haven't already done so, it's good to get your generator professionally serviced before the ice storms hit! Many people don't realize that a generator is like an engine, and servicing it is no project for a DIYer!
After servicing generators for 13 years, and training novice technicians, we know what to look for as well as what to listen for.
Although we have all of the sophisticated testing equipment, experience plays a major role in tracking down problems and coming up with solutions!